Rimac Aluminium Rainwater Systems have been developed to suit every type and style of building; domestic, commercial and industrial, for new build or refurbishment projects.
Manufactured from a combination of extruded, pressed and die-cast aluminium, Rimac Rainwater Systems provide high performance and long life together with visual appeal. Half Round Gutter Rimac extruded, half round gutters are ideally suited for use on modern housing, commercial and industrial developments, schools and agricultural buildings.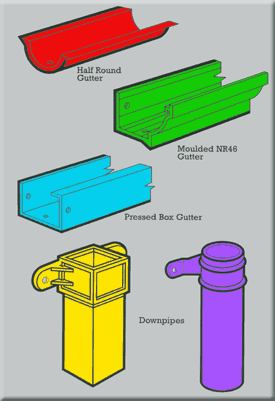 Moulded NR 46 Gutter
The NR46 Gutter is designed to match the elegance of Edwardian and Victorian architectural styles.
Pressed Box Gutter
Rimac Pressed Box gutter is a fabricated sheet aluminium gutter, suitable for use on all types of buildings. Standard and non-standard components can be supplied.
Downpipes
Square and circular section downpipes of aluminium tube are connected with cast sockets, fabricated internal sockets or swaged joints according to size and section, and fixed with pipe clips.